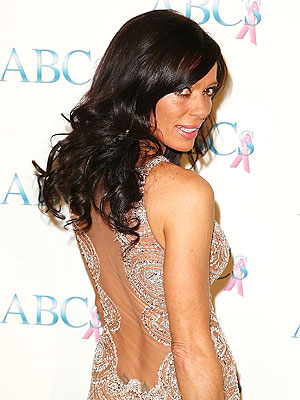 People.com
:
It was all about making a mark on Monday's Real Housewives of Beverly Hills, as Carlton Gebbia got some new ink while Jamie Lee Curtis and Kyle Richards left an indelible impression on Children's Hospital Los Angeles.

"I love tattoos because they're very symbolic to me," said Gebbia, a practicing Wiccan. "I know a lot of people don't like them, but I'm not doing it for them, I'm doing it for me."

Gebbia, who admitted she has four tattoos, the most recent being a "tramp stamp," added a large pentagram on the back of her neck surrounded by the names of her children as well as the phrase "Blessed Be" in her daughters' handwriting.

"I'm going to have their writing on the back of my neck for the rest of my life," said Gebbia, 40. "It's not a midlife crisis. It's emotional."

And painful. Gebbia winced numerous times as her husband stood watch.

"I'm being a p----," she said. "Sorry."

Meanwhile, Kyle Richards made a different kind of lasting mark, holding a fashion show to raise money for Children's Hospital Los Angeles.

"I think it's important to give back to the causes you believe in," said Richards, who shared that her husband, Mauricio Umansky, had spent time at the hospital after suffering as a child from neutropenia, an abnormally low count of the white blood cell that helps fight off infections.

"He had a small percent chance of living, and he survived," said Richards, 44.

Jamie Lee Curtis was the featured speaker at the event, and the actress reminisced about making the horror classic Halloween with Richards, who played the little girl Curtis babysat.

"You carried me all the way to my trailer," Richards recalled about the time the then 19-year-old Curtis stopped filming to tote the sleepy 7-year-old. "[You always had] that caring, nurturing side ... hearing you speak has really inspired me."
RELATED:
Did Brandi Put A Spell On Her? Carlton Gebbia Calls Kyle Richards A 'Moron,' Says Joyce Giraud Is 'Ignorant'