Wednesday, October 15, 2014
TooFab.com
:
The love lives of "The Real Housewives" have fueled many a storyline on every franchise of the Bravo reality show -- but, for Adrienne Maloof, hers hit its roughest patch yet after she left the show.

When the reality star returns to "The Real Housewives of Beverly Hills" for Season Five, she'll do it without Paul Nassif by her side. While the two joked about their bickering on the show, they officially separated in 2012. The extremely bitter (and very public) divorce proceedings that followed included restraining orders and brutal accusations on both sides, before it was settled in 2013.

"Going through a divorce period is difficult at best, so when you're in front of the public eye and having to air your dirty laundry in public, it's hard on the children, it's hard on both of you, it's never easy," Maloof tells toofab's Anna Kachikyan.

"I've been asked if the show was the cause of the divorce and I'd have to say that no it wasn't ... but it probably put it over the edge. I think that it was already having issues and when you're in the public eye and those issues are so explosive over the world, it's very difficult to make a marriage work," she says.

Fans of the show definitely remember seeing her infamous framed wedding dress in her closet. See what she plans to do with it now, to "get some positive karma" out of the situation, in the video above.

These days, Maloof is in a much better place, thanks to her much younger boyfriend Jacob Busch.

"I really don't think about the number. If you take that number out of the equation, you're still going to have the same relationship," Adrienne says of the 28-year age gap. "Many women do it, Jennifer Lopez, Demi Moore, Madonna. If you got a great relationship, you got a great relationship."

Maloof says that both of their families and friends support the coupling.

"They just want me to be happy and they know the kind of spirited energy I have and they know it's gotta be someone who can keep up with me," she says. "Of course there are going to be people that are gonna question the age difference, so what? If I dated a rocket scientist, they'd say why hasn't he taken you to the moon. It's always gonna be something."
RELATED:
'RHOBH' Adrienne Maloof speaks out on Lisa Vanderpump and Lisa Rinna
EOnline.com
:
What happens when a WWE Diva faces off against a Real Housewife? More drama than you could ever imagine!

Real Housewives of Atlanta star NeNe Leakes made a special appearance on WWE's Monday Night Raw—along with Chrisley Knows Best star Todd Chrisley, who appeared ringside with his two sons—but the second that she stepped out of her dressing room, there was already trouble!

After receiving a warm welcome from Total Divas stars Nattie, Brie Bella, Rose Mendes and Trinity, the Glee star was caught off-guard when she was given a cold reception by Ariane, who rudely bumped into Trinity as she walked by with Nikki Bella and Summer Rae!

"Is there a problem?" Ariane asked, stepping forward and getting directly in NeNe's face.

"There is a problem," NeNe remarked.

You won't believe what the WWE Diva and Real Housewife do next... Watch the clip above to see the rest of their heated exchange!
RELATED:
Real Housewives of Atlanta Season 7: To Chronicle NeNe Leakes' Several Professional Pursuits; Kandi Burruss and Kenya Moore's Focus On Building Their Families; Plus More!
Tuesday, October 14, 2014
RadarOnline.com
:
The hits keep coming for Joe Giudice. After the Real Housewives of New Jersey star was sentenced to 41 months in prison for fraud earlier this month, RadarOnline.com has learned that he just accepted a plea deal in another case that will see him doing even more prison time. According to an insider, he could be serving up to ten more years behind bars!

Joe is due in court in New Jersey on Wednesday for a hearing in his drivers license fraud case.

Authorities allege that the husband of Real Housewives of New Jersey star Teresa faked being his brother, Pietro, to get a license in June 2010, after his own was suspended following a DWI five months earlier.

The ruse was uncovered after Pietro was stopped by police in March 2011 — and Joe's image came up in the officer's search.

An insider tells Radar that a plea deal was finally reached after "prosecutors signed off on allowing Joe to serve the prison time in the drivers license case concurrently with the bankruptcy fraud."

But that doesn't mean he's getting off easy. Said the source, "It's likely Joe will remain behind bars longer than the 41 months in prison …"

In fact, the judge could sentence Joe to a maximum of 10 years. Prosecutors are asking for half of that time, but it will ultimately be up to the judge.

And will his wife Teresa be by his side? Not this time, claims the source.

Teresa "has no plans on going to court with Joe on Wednesday for the sentencing," the source revealed. "She hasn't been to one appearance with him for this case, so she figures why now?"
RELATED:
Teresa Giudice Has Paid $200,000 In Restitution
LoveBScott.com
:
Phaedra Parks has been able to scoot on by relatively unharmed in regards to her husband Apollo Nida's criminal activities and subsequent conviction — but not any more.

The Real Housewives of Atlanta star is being forced to share her knowledge of Apollo's illegal activity in an upcoming deposition, according to TMZ.



Phaedra will be grilled by attorneys for author Angela Stanton — who Phaedra sued for defamation. Stanton wrote a book suggesting Parks knew all about Apollo Nida's illegal activities. Phaedra was already deposed once in the case, but stonewalled attorneys when it came to Apollo.




Now a judge has ordered Phaedra to sit for a 2nd deposition and answer those questions. Stanton's lawyers say they need the info from Parks, so they can mount a proper defense in the defamation case.

While we find it hard to believe Phaedra knew absolutely nothing of her soon-to-be ex-husband's wrongdoings, let's just hope she has her story straight. We're sure Apollo's gonna air out whatever he can about Phaedra in his upcoming tell-all book anyway.
RELATED:
Phaedra Parks Shows Off Her Super Tiny Waist! (PHOTO)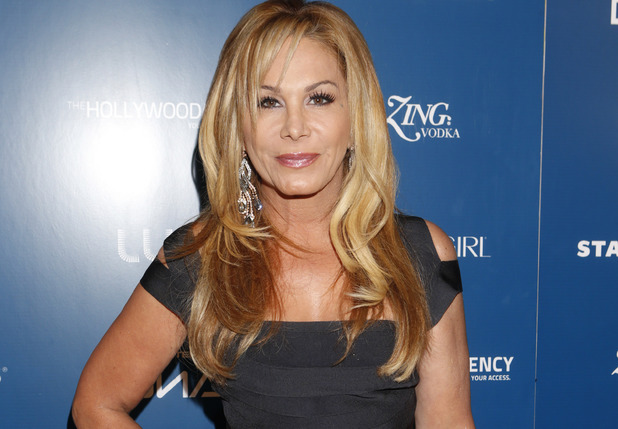 TooFab.com
:
Adrienne Maloof left "The Real Housewives of Beverly Hills" after Brandi Glanville started running her mouth about her costar's family life, but now, she's coming back!

Despite her Season Three exit, the outspoken reality TV star and businesswoman will return in a recurring role for Season Five -- and she sat down with toofab's Anna Kachikyan to reveal why she decided to come back and what she thinks of the show's new blood.

"I really wanted to come full circle and have some closure with the women," Maloof tells us. "I think I'm better equipped now to deal with what to expect from 'Housewives.'"

"I was a little nervous on the first day of shooting, which is to be expected," she says of her return. "Some of the old feelings came back, so it was a little bittersweet. But overall, it was good to see all the ladies."

That statement is somewhat surprising, considering how she left things with both Brandi and former neighbor/BFF Lisa Vanderpump. While her feud with Glanville exploded in Season Three, things became tense between Adrienne and Lisa over time -- with the former accusing Vanderpump of selling stories about her to the tabloids.

She what she says about Lisa specifically in the video above.

This season, the 51-year-old multimillionaire will join Lisa, Brandi, Kim and Kyle Richards, Yolanda Foster, Camille Grammer and newbies Lisa Rinna and Eileen Davidson.

And while she played it coy on who she'll be feuding with this year, Adrienne said we will see fireworks from the "Days of Our Lives" veteran.

"You're going to see her in a combative way," she said of Rinna. "She's really going to defend her family, and I respect her for that."
RELATED:
Adrienne Maloof And Younger Boyfriend Make News Again: 'RHOBH' Star And Jacob Busch Enjoy Date Night Out
Monday, October 13, 2014
Inquisitr.com
:
Tamra Barney has won the custody case against her ex-husband, Simon Barney. The Real Housewives Of Orange County star has a lot to celebrate this weekend after the judge presiding over the case ruled in her favor, allowing her to keep 50/50 custody of two of her children, Spencer and Sophia. According to Real Mr. Housewife, Tamra is pleased with the outcome of the trial. Tamra and Simon will return to court in December in regard to their third daughter, Sidney.

"We will go back to court in December for my older daughter, Sidney, after she starts court ordered therapy. I am very excited that it is over for my kids sake. I'm looking forward to repairing my relationship with my daughter that Simon ruined," Tamra said.

Although Tamra Barney had a bitter battle with Simon over custody of the children, he is actually "pleased" with the way things turned out. According to Radar Online, Simon hopes that his efforts to bring Tamra down, though they failed, will force her to "become a better mother." Despite trying tirelessly to prove his side — that Tamra was an unfit parent — Simon still feels like he will get something out of this whole thing.

"I hope that by bringing this court action it will force her to, hopefully, become a better mother. I was glad to hear from the judge that if nothing changes, the judge is inclined to give me full custody of Sidney in the very near future. Once I have physical custody of Sidney, I look forward to helping her foster a relationship with her mother," Simon said.

Of course Tamra Barney is relieved that this is now behind her, and while things with Sidney, aren't completely worked out yet, there is a lot of hope for their relationship. It sounds like Simon wants Sidney and Tamra to mend their relationship, but it also sounds like he wants to be in control of when and how that happens. Tamra is a very strong woman and will deal with this the best that she can.
RELATED:
Tamra Barney Accuses Ex-Husband of Parental Alienation, Abusing Teenage Daughter
Sunday, October 12, 2014
EOnline.com
:
And the divorce rate is higher than ever.

The Real Housewives of Atlanta star Phaedra Parks is leaving her husband Apollo Nida, who began an eight-year prison sentence last month. The Bravo star "has retained an attorney with the intent of amicably ending her marriage," Park's rep, Steve Honig, exclusively confirmed to E! News.

Of course, divorces are about as common as catfights on the Real Housewives, and after New York City Housewife Ramona Singer announced her plans to leave her husband Mario Singer back in August, we decided to calculate the divorce rate of each individual R.H. series, as well as the franchise's overall divorce rate. The results were shocking.

In August, the franchise's overall divorce rate was 33.9 percent, with RHOA's rate coming in at 33.3 percent. But with Parks' decision to divorce Nida, it was time for us to break out our calculators and update our findings.

Here's Atlanta's updated list:

The Real Housewives Of Atlanta (Note: NeNe Leakes' divorce and remarriage to Gregg Leakes counted as two marriages.)

Divorced: NeNe Leakes, Porsha Williams, DeShawn Snow, Phaedra Parks, Lisa Wu
Together:Kim Zolciak, Kandi Burruss, NeNe Leakes, Cynthia Bailey
Not Married: Sheree Whitfield

Divorce Rate:

55.5 percent



And with Parks' switching over to the divorced side of things, the Real Housewives franchise's overall divorce rate is now 37.5 percent.
RELATED:
RHOA Star Phaedra Parks 'Knows She Will Be Better Off' Without Ex, Says Source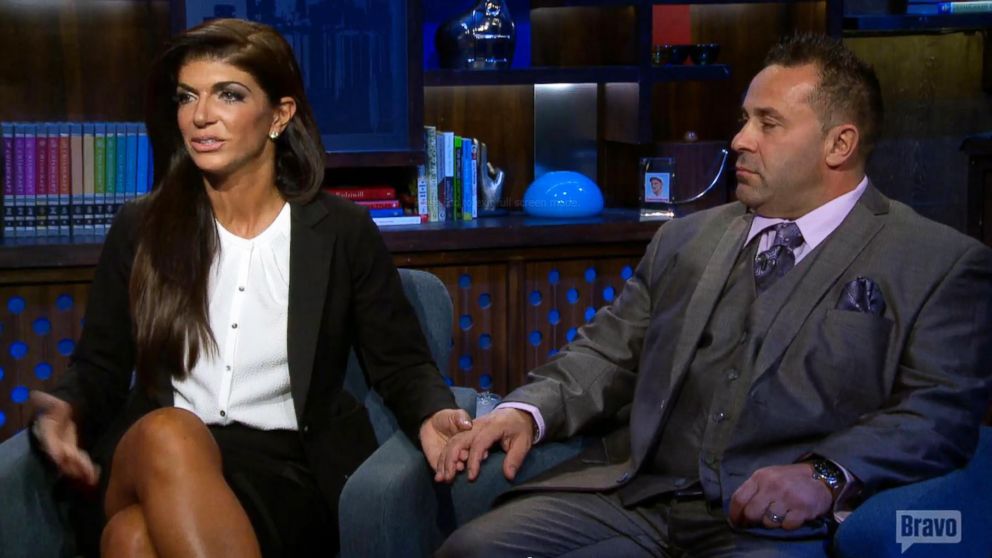 NYDailyNews.com
:
An uncomfortable Joe Giudice said in an interview telecast Thursday night that if he, his wife Teresa and their four daughters eventually end up in Italy, "that wouldn't be such a bad thing."

Joe and Teresa, who are best known as colorful characters on Bravo's "The Real Housewives of New Jersey," have some business stateside first.

She starts a 15-month prison term on Jan. 5 and when she gets out, Joe starts serving 41 months.

They had both pleaded guilty to bank fraud charges and taken a plea deal Teresa said in an earlier part of the interview she didn't fully understand. She had no idea, she said, that she could actually go to prison.

They also have considerable tax liabilities and since Joe isn't a U.S. citizen, he could face deportation proceedings after he finishes his prison term.

Asked by "Real Housewives" Executive Producer Andy Cohen how he would feel "if the family were living in Italy in five years," he didn't seem to flinch at the prospect.

He also said, "We'll cross that bridge when we come to it."

Or that ocean.

Elsewhere in Thursday night's interview, which the Giudices did as a paid part of their contract with Bravo,

Teresa said that if she had to do it all over again, she doesn't know whether she would have ever signed on for "The Real Housewives."

"I go back and forth," she said, noting several times that the downside was "you're scrutinized" by everybody in a way that non-TV people are not.

She declined to answer when Cohen asked her if she thought her impending prison term was a result of being on "Real Housewives."

In response to another question on whether he has a drinking problem, Joe admitted, "A little bit."

He can "drink two bottles (of wine) a night easy," he said, because "It helps me get to sleep. I don't wanna take a pill."
RELATED:
'Real Housewives' Star Joe Giudice Admits to Drinking Up to 4 Bottles of Wine a Night