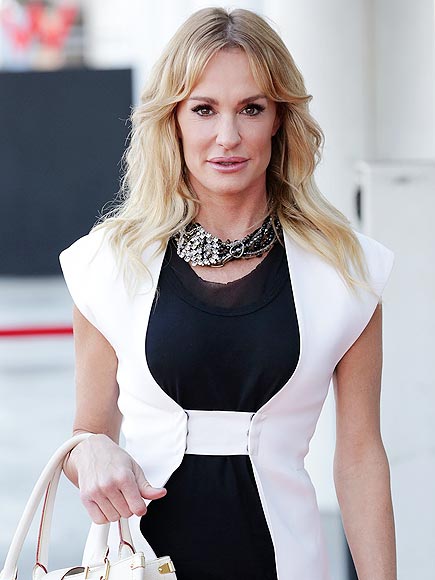 People.com
:
Three years after her estranged husband's suicide, Taylor Armstrong is remarried and ready to return as a guest star on Real Housewives – though the tragedy still lingers over her and her daughter.

"I don't know if you ever move on from suicide," Armstrong, 43, tells PEOPLE while attending the Marjaree Mason Center's 31st Annual Top Ten Professional Women and Top Business Awards Luncheon as a keynote speaker. "It's something that I'll always have questions about, but for my daughter's sake, I can't dwell on the past. I have to look to the future, and I do bring up her father. We work with a child psychologist ... It's not as though we just pretended someone disappeared in her life."

Armstrong's ex, Russell, killed himself in 2011. She had filed for divorce just two months earlier after revealing he verbally and physically abused her.

Now, she has written about her experiences and dedicated her life to helping other domestic-violence survivors – all while raising her daughter Kennedy, 8.

Luckily, Armstrong's new husband, John Bluher, whom she married last April, and Kennedy are "just really enjoying each other."

"Kennedy now is going to have a much better chance, seeing a healthy relationship and a healthy marriage, then to have that in her own life," she says. "It's something I'm very conscious of. I have a lot of regrets that I wasn't strong enough to leave my relationship earlier for her benefit, but now that we're out of it, we're absolutely on top of making sure that she develops the self-worth and self-esteem she needs to make sure she'll end up in a happy, healthy relationship."

As for her Real Housewives of Beverly Hills comeback, Armstrong says she "did film with them a little" but is not back permanently, though she does think new cast member Lisa Rinna is "really nice."
RELATED:
Taylor Armstrong has no regrets about her time on 'RHOBH'