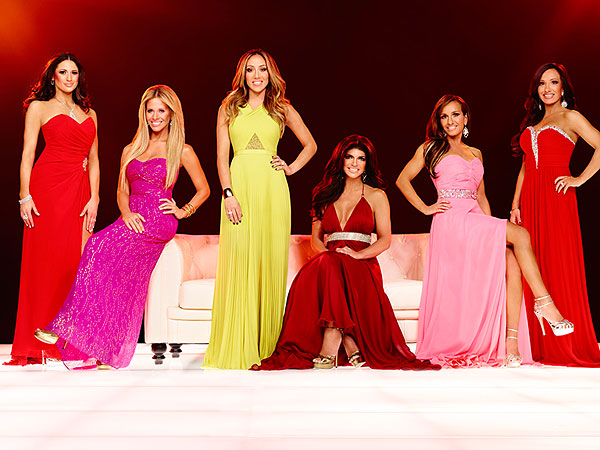 People.com
:
Season 6 of The Real Housewives of New Jersey will feature new blood, old blood and, as always, bad blood.

"The b–– is back, and you can kiss my a–," says a sassy Dina Manzo, who makes a return to the show, which premieres July 13 (8 p.m. ET) on Bravo. (A preview airs June 1.)

Manzo's marital and relationship woes look to take center stage, as do Teresa Giudice and husband Joe's legal woes.

"I'm in this nightmare I can't get out of," says Giudice, who recently pleaded guilty to four counts of fraud.

But most impacted by her parents' drama is Gia, the Giudice' 13-year-old daughter, who breaks down numerous times in the exclusive clip, before telling her father she wants to be a "criminal lawyer" when she grows up.

"We need them," Joe says.

Sexy couple Melissa and Joe Gorga are back – and now in the garbage business – while Kathy Wakile, her cannoli (and Rosie) return and look to do battle with Giudice, who remarks, "How do you spell b––? K-A-T-H-Y."

And although Jersey veterans Jacqueline Laurita and Caroline Manzo have departed (Manzo will be starring in her own Bravo spinoff, Manzo'd with Children), there is double trouble to replace them.

Self-described "b––y-nice" identical twin sisters Nicole Mauriello and Teresa Aprea look to add loads of drama – and humor – to the show.

"A woman only needs two things," remarks Mauriello, who owns one of the most prestigious Italian restaurants in Little Italy with her husband, Rino. "Dunkin Donuts and oral sex."

Breast cancer survivor Amber Marchese, a longtime friend of Gorga and the twins, also joins the show, and her emotional battle will be part of season 6.

"The risk of not seeing my children grow up ... It's just awful every single day," says a tearful Marchese, who also looks to stir up her own trouble on the show.

As the clip ends, and the yelling, fighting and lies escalate, Manzo sums up the show and season, over clinking ice cubes: "That's what we do in Jersey."
RELATED:
Bravo Banking On Teresa Giudice Sympathy — 'RHONJ' Season Teaser Will Feature Her Crying Daughter