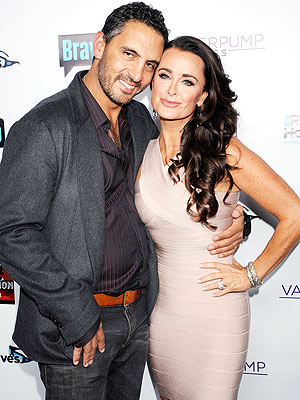 People.com
:
Kyle Richards warns don't believe everything you read.

Richards, 44, says rumors that her husband Mauricio Umansky cheated on her or flirted with another woman are all "part of the snowball out-of-control thing."

Telling PEOPLE that the twosome was "blind sighted" by the reports – which are highly touched upon in the trailer for season 4 of The Real Housewives of Beverly Hills – Richards says, "My husband and I both were [worked up about it]. We were literally like, 'What?' "

After taking photos with her arm around her hubby at the show's Hollywood premiere party on Wednesday night, Richards said, "I don't think anything is perfect in life, but [what we have] is perfect for us. I could not love my husband more. I mean I really love him with all my heart and soul, and he loves me. He's an amazing husband, he's an amazing father, he's an amazing human being."

Added the reality star, "He did not deserve to be sucked into this, and he didn't sign up for this spotlight. I did."


ONSCREEN FEUDS

Richards also provided an update on where she currently stands with some of her castmates.

"Some are really cool and some not as much," she said of the new Housewives: self-proclaimed witch, Carlton Gebbia, and actress Joyce Giraud.

"We're very different. I think some were open-minded and nice and some were very closed-minded and very negative energy to me."

Although she didn't explicitly state which new girl she feuded with, when asked if anyone tried to cast a spell on her, she said with a laugh, "That's what I'm talking about!"

As for her former BFF Lisa Vanderpump, Richards would only say teasingly, "We have our moments. We've had difficulties. We've had our issues and that's addressed this season."

Acknowledging her relationship with cast mate Brandi Glanville, with whom she has formerly feuded, Richards told reporters, "We're in a good place. People are like, 'Ooh, they're best friends.' We're in a much better place than we were, obviously, but it can't get any worse than it was."

And a former Housewife she's still totally fond of? Recently engaged Taylor Armstrong.

"I'm very happy for her," Richards said of Armstrong, who is planning to wed John Bluher. "He's a really nice guy. He really cares about [Taylor's daughter] Kennedy. They seem very happy and she seems at ease."
RELATED:
Kyle Richards Is Designing Her Own Clothing Line With HSN