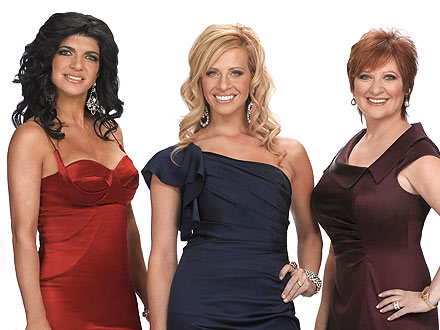 This is wack.
Is Dina really trying to convince people that she's totally neutral here?!? Put aside the slam Teresa made about Carline being "1/16th Italian", but could Dina not be bothered in the least that Teresa also took an unnecessary shot at her nephew Chris in her cookbook? Or that Teresa would take an unwarranted shot at her sister after all the support Caroline's shown Teresa throughout all the drama Teresa's been involved in since RHONJ started?
I'm not saying that Dina can't say that she doesn't want to be in the middle of this drama, but remember it's Dina's choice to still be in the spotlight (she's on her 3rd reality-TV now) and like it or not Dina can't pretend that people weren't going to wonder how she fits into all of this considering she's besties with that scumbag Teresa and also Caroline's little sister. That said, "not taking sides" comes off as pretty weak:
There's no family feud for the Manzo clan – at least not according to Dina Manzo.


The former Real Housewives of New Jersey castmember took to Twitter on Thursday night to clear up rumors that she has a stake in the escalating fight between Teresa Giudice and her older sister, Caroline Manzo.


"eww getting some MEAN tweets," Dina, who left the show in season 2, Tweeted. "I didn't take sides, don't assume~didn't even know they were not getting along until recently~I'm not involved."


After previews of an explosive – and emotional – New Jersey reunion hit the web, there was speculation that Caroline and Dina's relationship was strained because of disagreements over their friendship with Giudice.


While Caroline hasn't explicitly addressed Dina, in a recent interview on The Gayle King Show, Caroline spoke about her relationship with Teresa, which seemed to fizzle out in the season 3 finale after Giudice made insulting jokes about Caroline in her cookbook, Fabulicious!.


"We were never really friends," Caroline tells King. "She was an acquaintance. She was very good friends with my sister, Jacqueline [Laurita]. ... I think Jacqueline suffered the biggest blow here."


Laurita, who is Caroline and Dina's sister-in-law, did not appear at the recent reunion, which will air on Bravo on Sunday (10 p.m. ET), after sparring with Giudice over Twitter. She has allegedly quit the show, which is already taping season 4.
RELATED:
Dina Manzo: I'm a Pawn for 'Real Housewives' Ratings