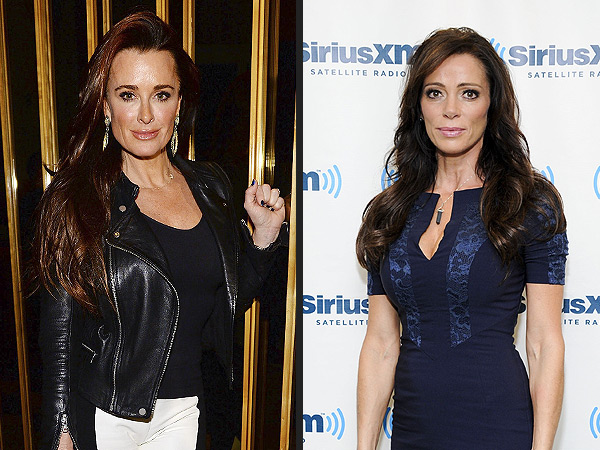 People.com
:
What would The Real Housewives of Beverly Hills be without yet another claws-out rivalry?

But according to Kyle Richards, she had no idea newbie Carlton Gebbia had any beef with her – that is, until Richards finally watched the show on TV.

PEOPLE caught up with Richards Friday at the Big Game Big Give Super Bowl Party hosted by Alec Baldwin in New York City, where the reality star said she's been keeping up with the show's current season – and admitted to being frustrated with Gebbia.

She's "looking for t--- on an ant," Richards, 45, said about her rival, claiming that Gebbia, 40, takes things out of context and often isn't given the chance to explain herself.
Case in point: a verbal spat that erupted on the show's Jan. 27 episode when Richards noted that Gebbia's new tattoo resembled a Jewish star, prompting a shocked reaction from Gebbia.

(Richards tells PEOPLE that Gebbia's mic was blocking a part of the tattoo, preventing Richards from fully making it out.)

But the Real Housewives of Beverly Hills isn't the only reality show stirring up some controversy in the Richards household.

Richards reveals that her daughter Farrah was asked to star in the new E! reality show Rich Kids of Beverly Hills but declined, and Farrah remains close friends with the cast.

Richards believes that the spoiled, entitled persona the kids project on the show is far from the truth, saying, "I feel bad – they are not as horrible and stupid as they seem."

The backlash, however, has been harsh: Richards says that Farrah posted an Instagram photo of her with some of the cast and it generated such vicious comments, she had to take it down.
RELATED:
Fed Up! 'RHOBH' Star Carlton Gebbia Blasts Kyle Richards: Nothing Out Of Her Mouth Is 'Honest or Authentic'