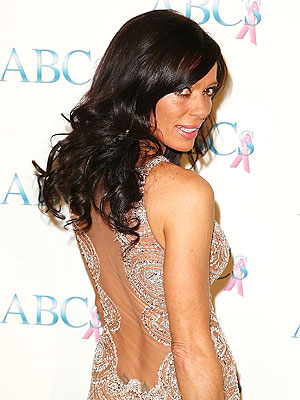 People.com
:
We already knew that Carlton Gebbia was a witch, but we learned on Monday's Real Housewives of Beverly Hills that she also likes to dabble in the dark arts when it comes to sex.

The 40-year-old showed off her future "playroom" – a place Christian Grey would be proud to call his own.

"I want a room in the house where I can lock the door and have completely no inhibitions," Gebbia said. "Mommy and Daddy's playroom."

She was intent on designing a room that would make her husband (as well as Fifty Shades of Grey's Anastasia Steele) blush.

"I like to play. I like to experiment. I like adult toys," Gebbia said, showing off racks of revealing lingerie as well as ankle restraints and a red leather mask with ball gag. "David does not know yet what he's in for … I think he'll be a very happy boy."

Maybe that explains why Gebbia was unable to attend Yolanda Foster's fabulous party, which featured a private performance by her husband, David Foster, and The Tenors, as well as a touch of favoritism.

"How come some people have little hearts on their cards and some don't?" asked Foster's longtime combatant Kyle Richards when she noticed the handwritten place cards. "I don't."

"There was absolutely no rhyme or reason," Foster, 49, said, later adding, "It was my unconscious speaking without me knowing … but my unconscious was accurate."

Brandi Glanville and Lisa Vanderpump received hearts, while Kyle and Kim Richards, along with Joyce Giraud, did not.

"Maybe she's making a statement," Vanderpump, 53, remarked coyly. "I have a big heart next to mine."

"Really?" Kyle, 44, said. "We have to earn the hearts."

"Friendships are earned," Foster said.
RELATED:
What's The Point? Chastising Brandi Glanville 'Is A Fruitless Task,' Says Frenemy Lisa Vanderpump