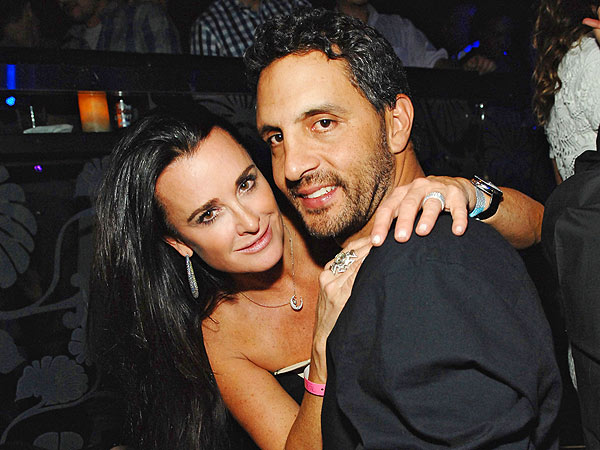 RadarOnline.com
:
Kyle Richards and her husband Mauricio Umansky fought off cheating rumors once again.

During Monday night's episode of Real Housewives of Beverly Hills, the couple were ownunited and continued to shoot down infidelity rumors during lunch with her co-star Joyce Giraud and her husband.

"When anyone tries to come between us, it actually makes us stronger," Kyle said. "We know what we have."

Her husband stood by her, calling out the fellow housewives for being mean girls.

"Let me tell you something. Any of these f**king girls can do a lie detector test with me tomorrow and no problem," Mauricio said, adding that the lies splashed across the tabloids have made him "loose all faith in humanity."

"I realized that as long as you're in the spotlight, people are going to say bad things about you," Kyle said in her confessional. "We choose to surround ourselves with people who know us inside and out. We're not supposed to care, but we do. And it hurts."

Later, Kim Richards arranged a circus school outing, which she thought would result in an afternoon of camaraderie among the women. But tempers quickly flared among the group.

During the outing, Brandi Glanville vented about Kyle, who reportedly told the paparazzi she was a "bully."

"I feel like I had given her a heads up about stories written about her husband — as a girl's girl, I gave her a heads up about it," Brandi said.

"But then yesterday, I was getting chased down in Calabasas by the paparazzi saying Kyle Richards is calling me a bully," she later told Kyle's sister.

Kyle tried to defend her sister and shut down the catty behavior.

"The paparazzi make things up," she said.

But Brandi and Yolanda didn't seem amused with her diplomatic behavior.

Later, Kyle confronted Brandi and claimed she never called her a bully.

"I'm not going to apologize for something I didn't do," Kyle fired at a defensive Brandi.
RELATED:
The Real Housewives of Beverly Hills's Brandi Glanville: I'm Not a Bully