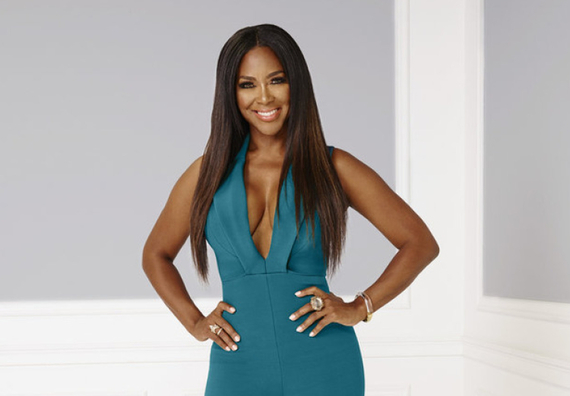 TheHuffingtonPost.com
:
From the minute she stepped into The Bailey Agency several seasons ago, Kenya Moore breathed a brand new life into "The Real Housewives of Atlanta". As the new season kicks off (Sunday November 6th at 9:00 8/7c), Moore is poised for her hottest season yet. She sat down with me to chat about her new home, Moore Manor, how she's quite possibly found love with a new man, her time with a certain Presidential candidate on "The Celebrity Apprentice", and what alliances may have shifted with her fellow Atlanta Housewives.





Well right off the bat Kenya, you are back at the forefront of the drama on this season of "The Real Housewives of Atlanta". Moore Manor definitely has taken some significant steps towards completion since we last saw it.
Oh thank you. I never felt like I would be finished with everything but now that I am, looking at it from the first episode until now, it looks iike a completely different house.
It looks like you definitely won the bet with returning cast member Sheree Whitfield about whether or not her "Chateau Sheree" or your "Moore Manor" would be completed first, correct?
Oh, I mean, I've been in my house four or five months now and she still hasn't moved into her house. It's pretty safe to say that I won that competition.
Other than not having Nene Leakes as a cast member this season, what is different about this season for "The Real Housewives of Atlanta"?
For me, there is obviously other dynamics on the show, like having Sheree back full-time, that has been very interesting, she has been definitely getting her hands dirty in the process. What's interesting for me is my relationship being a big part of my life this season. Trying to figure it out, I mean, we're a year and a half into it. Is there going to be marriage, are we going to work on our issues or are we going to part ways? That's real different for me this season.

Based on what we've seen in the trailer, it looks like you and fellow cast member Phaedra Parks are in a very good place especially.
Yeah, you know sometimes in life, time heals wounds. We both hurt each other in various ways but I am a person that never, if you watch the show, likes living in the past. I don't like people that harp on old things and I know I've made mistakes, but at the core, it wasn't anything that I planned to do. I never did anything inappropriate with Apollo, while there were friendly texts that I answered, we discussed that in lengthy detail. I never really crossed a line that could not be uncrossed. For me, it was not anything that was unforgivable. I just feel that if a person wants to make amends and move forward, I'm willing to do that as long as they accept their responsiblity. In just made sense for us to move forward.
RELATED:
Here's Everything We Know About Kenya Moore and Matt Jordan's Rocky Relationship