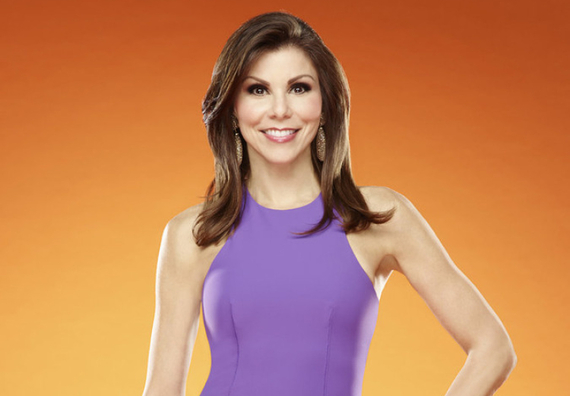 HuffPo.com
:
Every franchise of Bravo's "Real Housewife" has that one woman who seems be somewhat of a cross between the moral high ground and narrator of sorts; for the "Orange County" franchise, Heather Dubrow fills that role to the hilt. Between juggling her children, her husband Terry, numerous businesses, along with all of the drama with the other ladies, Dubrow seems to be navigating the waters of this hit franchise just fine. She took a break to chat with us about the upcoming season of "The Real Housewives Of Orange County", her true feelings on last year's "Brooks-Gate" and what it takes to keep your marriage strong while spending so much of your life in front of the cameras.
Heather thanks for taking the time to chat with me, between premiering the next season of "The Real Housewives of Orange County" and finishing your spectacular new home, I am thrilled you found the time! Thank you! Believe it or not, we're still not moved in. We've waited this long, and we are four months over where I thought we would be, but at this point I just want it to be perfect. You order things, something is wrong, something is broken, you may have to change around a few things, but I'm so excited with how it's turning out .The best part is that I haven't let Terry see the house in a month; I think since the furniture started coming in. I want to give him a big splashy reveal!


What do you think is your favorite room in the house that you have absolutely fallen in love with? Oh wow, there are so many fun rooms! I think it would have to be the laundry room; It's so cool. I love the laundry room, the closets, our kitchen, our family room. I designed every square inch of this house and I'm so proud of what I did.


Your house is almost another "Housewife" to add to the mix isn't it? You know, it definitely is another character I think.


So this season is definitely a departure, especially after it got ultra-dark with Brooks and Vicki last season. The addition of Kelly will also definitely change things in so many ways I think. In terms of "Brooks-gate", it almost felt like you were trying to see the best in Vicki despite what was going on. You know, I was. I think I was trying to give her "an out" many times. We were at a party and I would always ask her if she needed anything, if she needed help, anything at all. I said, and I always will say, I think she was duped, but at some point she knew. I just think it was too far gone for her and she didn't know how to get out. I don't know if that's the truth, but that's what I think the truth is.
By the end of the season and everything that had happened with Brooks, and then him showing false documents to E! New, at some point, we all went "Come On"! it was just too much. The thing with Vicki is that, while I love Vicki, she just has a hard time being accountable for things she has done.


As the "O.G. of the O.C." Vicki consistently seems to have an issue with the new girls joining the cast, be it Lizzie, Gretchen or Alexis. Shannon and yourself have been rare exceptions. Kelly seems to be an exception as well, which is exactly what Vicki seems to need right now though. She really did need a friend, she was very isolated from everyone. I had spoken with her a few times as Tamra had, so it's not like we weren't in contact with her. It was a very difficult relationship to try and repair and figure out how we were going to move forward. It's very difficult when you know that someone has done something so bad, how do you move forward without an acknowledgement. I mean, if Vicki had ever once said "hey listen, i didn't mean for this to affect you" we all would have moved on. All we got was the "Gretchen Apology".
It seems that Vicki is kind of all thumbs when it comes to choosing men. Conversely, you have managed to juggle your children, the Housewives, your husband Terry's show "Botched" along with your skin care line Consult Beaute. How do you think you manage to keep everything going in such a positive direction? You know it's funny, Terry and I just celebrated what we thought was our eighteenth wedding anniversary, even though it was only our seventeenth; It must have just felt like eighteen. We have been together as a couple almost twenty years, and just like any other couple, we have our ebbs and flows. We bicker, but we never really fight about anything big like money. The only thing we've ever fought about is the show. Our first couple of years on the show was very difficult for me, because I was going from scripted to unscripted. I was going from being at home with my kids to doing this.
Terry thought it was all hilarious, he would make jokes at my expense, because he didn't care, he was a doctor. For me, I was very hung up wondering how this was going to look and I had a really hard time releasing myself. So he and I would argue about the show. That's why I think in the first few seasons it looked like we were really fighting, because that was all we fought about. Finally I thought to myself "ok, I can do this" Also, I actually became friends with everyone, and developed real relationships with the girls. I mean, I was kind of plucked from obscurity and placed in this group. For me, it went from a very unreal situation to a very real one, and then we stopped fighting about it.
RELATED:
Heather & Terry Under Fire! Shocking Twist In Nasty Lawsuit From Dubrows' Former Pal