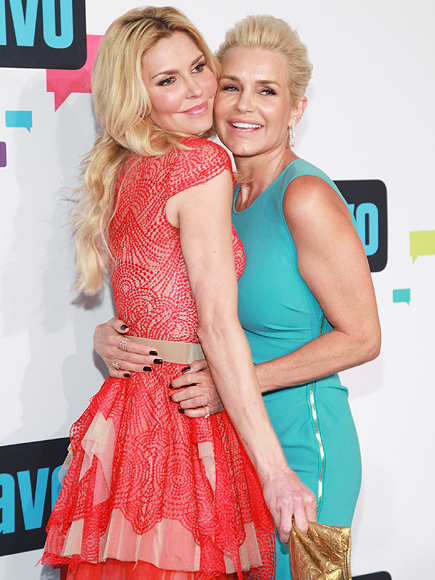 People.com
:
Will Yolanda Hadid return to the Real Housewives of Beverly Hills next season?

"She's deciding whether or not to come back to Housewives," Hadid's friend and former RHOBH costar, Brandi Glanville, told PEOPLE while promoting her new E! series, Famously Single.

Continued Glanville, 43: "And I was like, 'Girl, you need to do it because we want to see you get better, we WANT TO see you come out through this divorce, and show people that, even through divorce, you're okay. You can be in your 50s and be hot as f---.'"

Glanville's comments come after reports emerged claiming that Bravo was not inviting Hadid – who has been on RHOBH since season 3 – back for season 7.

In January, Hadid, 52, filed for divorce from David Foster, 66, after four years of marriage and nine years together. The former model was previously married to Mohamed Hadid from 1994–2000. She and Mohamed are parents to three children together: daughters Gigi, 21, Bella, 19, and son Anwar, 16.

She is poised to release a memoir, Believe Me: My Battle with the Invisible Disability of Lyme Disease, which will include intimate details of her crusade to find a cure for the disease.

"I am determined to find a cure affordable for all," Hadid told PEOPLE exclusively of the book. "And it has been my dream to write a book to share all the treatments, knowledge, and spiritual growth I have acquired these past five years. As I've said previously, it's my Dutch foundation that gives me the balls and courage to share my raw and unedited story with the world! By sharing my journey in this book, I hope to offer a voice and encouragement to people who are ill and find themselves struggling while uncovering the mystery of chronic disease."
RELATED:
Brandi Glanville texts Calum Best every day