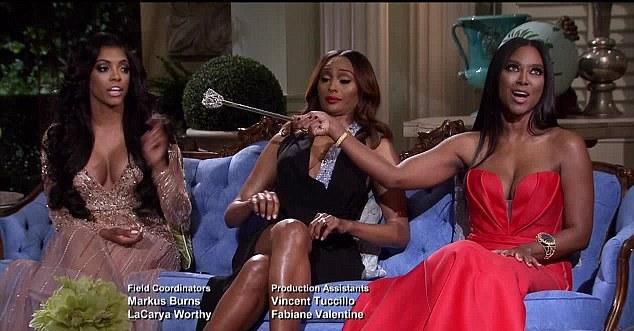 Wetpaint.com
:
While

Andy Cohen

was certainly in a tough spot during Sunday night's first reunion episode of

Real Housewives of Atlanta

— he was literally

caught in the crossfire

when

Porsha Williams

weave-snatched

Kenya Moore

— but he may have been in an even worse spot afterwards with the reality show's fans!





The skirmish between Porsha and Kenya was already public knowledge, thanks to Ms. Moore

calling 911 after the taping

. And as much as we all were secretly anticipating being able to see the much-touted drama unfold on-screen, the actual events were somewhat jarring to watch. Many fans agree with us, and they're not letting exec producer Andy off the hook for allowing Kenya to bring those provocative props.





"

Call me crazy guys but I didn't see that coming. I hear y'all about the props but at the time I didn't see that result coming," he

explained

after receiving a number of upset tweets about the situation,

adding

, "

if I thought it was going to go there I obviously would've taken the bullhorn away asap."





However, that doesn't mean that Andy is siding with Porsha and her actions, either. When one fan wrote, "

how would you feel if you were on the receiving end of the megaphone," Andy threw

back

, "

I wouldn't like it but I wouldn't get up out of my seat either."





And it wasn't just the viewers who took issue with how things were handled.

RHoA

star and reunion attendee NeNe Leakes also spoke out on the props issue,

stating

, "This is what happens when u hire ppl 2 be on the show who has NOTHING 2 lose & will do anything for 2$. Bring props should b again all rules." She also repeated this sentiment

on her blog

.





After hours of angry tweets poured in, the

Watch What Happens Live

host had heard enough. "It's official - no more props at reunions," he

mandated

, probably sending Kenya (and many other Housewives) into a tizzy.





But don't you fret — that doesn't include those trusty printouts that pop up as "evidence" every year. As one follower wisely

pointed out

, "but the ladies can still bring evidence, right? text messages, printouts, voicemail? : ) #ReunionRulesbyBravo," to which Andy

affirmed

, "yes!!!" #Thankgod.
RELATED:
Civil Rights Group, 'ColorOfChange' goes after Bravo over 'Real Housewives of Atlanta' fight