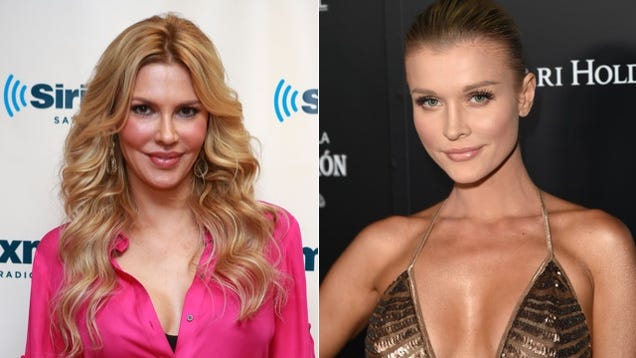 DailyMail.com:
Former-Real Housewives of Beverly Hills star Brandi Glanville has accused Real Housewives of Miami star Joanna Krupa of refusing to hand over multiple years of her tax returns in the latest installment of the reality stars' ongoing legal battle.




The women's legal battle first kicked off in January 2015 after Glanville said in an interview with Andy Cohen that Krupa had an affair with fellow former co-star Yolanda Foster's then husband and spoke about the smell of Krupa's private parts.




Now Glanville is accusing Krupa of refusing to hand over multiple years of her tax returns that could help her prove that her comments caused the model's reputation and career no harm.




Krupa first sued Glanville in Miami Court, accusing her of slander and emotional distress demanding monetary damages for the damage she did to her reputation.




During a November 2013 interview on Andy Cohen's Bravo show, Watch What Happens Live, told viewers that Krupa had an adulterous relationship with Foster's then-husband, Mohamed Hadid, and also claimed her vagina smelled.




Krupa claimed that Glanville's comments caused her emotional distress and damaged her reputation by labeling her as someone who slept with a married man.




She sued Glanville for using her celebrity status to embarrass, ridicule and ruin her image along with hurt her ability to get work in the entertainment field.




Glanville fired back at Krupa's lawsuit, saying the entire case was nothing more than an attempt by Krupa to keep her name in the headlines and help her her land a spot on Real Housewives of Beverly Hills, due to the Miami spin off being canceled years before because of low ratings.




Glanville said that both Lisa Vanderpump and Mohamed Hadid - who have been friends for more than ten years - revealed to her at Vanderpump's home that Hadid had been cheating on Foster with Krupa during a two-year affair.




She also claims she was informed that Krupa's private parts allegedly smelled.