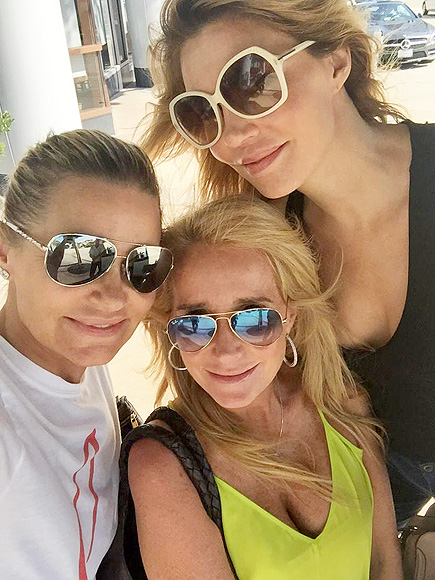 IBTimes.com
:
Kim Richards celebrated her birthday in style alongside former "Real Housewives of Beverly Hills" castmates and close friends Brandi Glanville and Yolanda Foster. As of late Kim, 52, has been struggling with her sobriety which has lead to some severe legal woes. Photos from her special day, however, suggest she may have turned over a new leaf.

As was reported by Us Weekly, Kim spent her birthday lunching with Brandi, 42, and Yolanda, 51. The ex "RHOBH" star posted the photo on Instagram, sharing with fans that the trio "had a great birthday lunch" and referring to Brandi and Yoland as her "girls." Brandi shared another version of the photo on her Instagram and Twitter Wednesday using the hashtag "#realfriends."

That wasn't Kim's only appearance on social media this week. Sister Kyle Richards shared a throwback photo of her and her sister on set 1977 set of "The Car" with actor James Brolin, who was playing their father. The photo shows Kyle, 46, and Kim on the back of a motorcycle being driven by Brolin, now 75. Kyle made little mention of her sister in the post other than when she acknowledged that she was photographed.

Kim has been in and out of rehab for alcohol addiction several times since April after relapsing. On Aug. 2 she was arrested at a San Fernando Valley, California, Target for shoplifting $600 worth of items.

According to reports, Richards walked into the store, filled two carts worth of various items including snacks, stickers and lint rollers from the dollar section and left the store without paying. She is said to have gotten close to three feet outside the store's exit before she was stopped by a security guard who placed her under citizens arrest. Richards was taken to a room for questioning before being placed under arrest by local authorities. It is also believed that she was living in her car at the time after over staying her welcome with several friends.

Prior to that she was arrested at the Beverly Hills Hotel after hotel staff alerted local authorities that she had been causing a scene inside the Polo Lounge. Police arrive shortly after the call was placed at which time they had to forcibly remove Richards from the hotel. She was taken to a local police station where she is said to have kicked an officer.

She maintains that she is healthy since checking out of rehab one final time on Aug. 27, despite continued reports claiming otherwise. Richards recently returned to Twitter where she told an inquiring fan that she was still sober.
If Kim's serious about staying sober she wouldn't be hanging around
a total lush
like Brandi Glanville, who's so desperate to get back on 'RHOBH' that she'll do anything to stay "friends" with Kim and Yolanda. But hey, whatever.
RELATED:
Beverly Hills Feud? Brandi Glanville Accuses Lisa Vanderpump Of Using Her For Publicity?