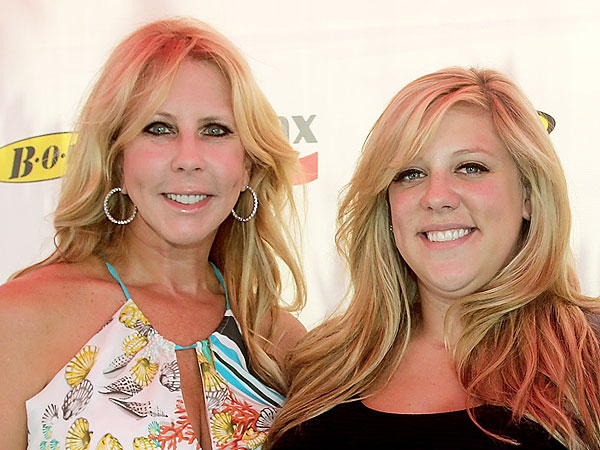 EOnline.com:
Vicki Gunvalson has never really been shy about having cameras around—they were on her when she learned of her mother's death—but in the exclusive Real Housewives of Orange County sneak peek below, Vicki does not want the cameras on her as she talks about (now ex) boyfriend Brooks Ayers with her daughter Briana Culberson.

Briana has made it very clear she wants nothing to do with Brooks and does not want him around her or her kids, so when she returns to Orange County, she is not going to stay with Vicki.

"I'm trying to be nice about it, I'm not going to kick somebody out of their own bed when they have cancer," Briana says after Vicki tries to get her daughter to take the discussion off camera. "Why are you overreacting so bad?"

Vicki doesn't want her daughter staying at a hotel when she's in town. But as Briana has made it clear, she won't be around Brooks. "You moved somebody into your house that I didn't want around my family, so this is where we're at," Briana says. "I'm being respectful by saying I'm not going to kick anybody out of their bed!"

Vicki says Brooks travels all the time, so he'll be fine. But Briana, a nurse, says somebody with stage 3 cancer and undergoing chemotherapy should not be traveling around, so she won't force him out of his bed.

This isn't the first time the mother-daughter duo have gotten heated over Brooks. Briana was not a fan of Brooks from the start, but things came to a head during a Real Housewives of Orange County reunion where she revealed a recording exists featuring Brooks telling her husband to hit her.
RELATED:
'Sex, Lies, and Leeches'