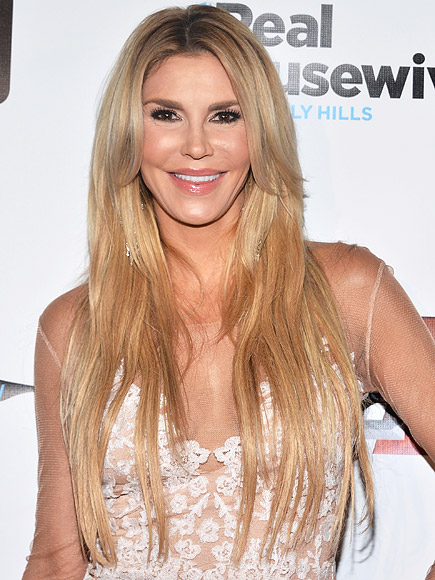 People.com
:
A certain wine-throwing housewife is back in the mix for The Real Housewives of Beverly Hills's sixth season, and Brandi Glanville has a good reason for her return.

Glanville took to the RHOBH season six premiere party on Thursday in Hollywood and credited one thing for her triumphant return to the reality show.

"Money," she told PEOPLE.

The 43-year-old mentioned that she only filmed with Yolanda Foster and Kim Richards for the season.

Glanville opted for a detailed, long-sleeve mini-dress at the event and was seen posing for a group photo with the rest of the cast.

Eileen Davidson, who has had drama with Glanville, said she hasn't seen Glanville on or off set, but insisted that she isn't "somebody who holds a grudge."

"I don't have anything against her," Davidson told PEOPLE of Glanville. "I learned a lot last year in the process. It wasn't always pleasant, but whatever, I made it through."

Glanville left the show earlier this year. She has maintained that she wasn't fired, but said she decided to leave after taking a beating online for last season's antics.

"I felt like I played ball, I gave my all to the show, and then when it aired I thought, 'Oh my God, they did me no favors in the editing room,' " she told Howard Stern in July. "And I got really upset and a little depressed."
RELATED:
Brandi Glanville 'Livid' Over Skepticism of Yolanda Foster's Lyme Disease Diagnosis