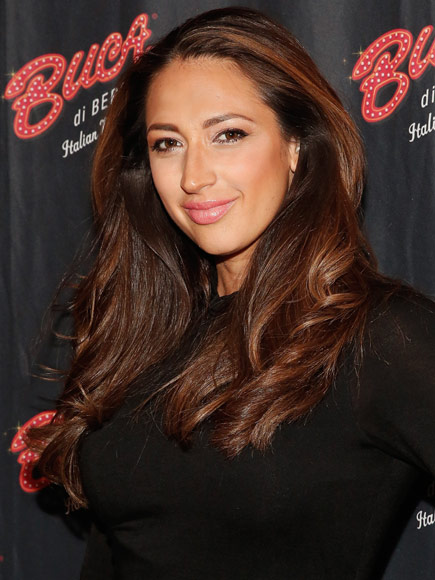 People.com
:
Amber Marchese, star of The Real Housewives of New Jersey , is blogging about her second battle with cancer for PEOPLE. After surviving breast cancer in 2009, she discovered a lump, which turned out to be cancerous, in her right breast in April. Marchese will share updates on her treatment and how she is coping with this second round of the deadly disease with prayer, a positive outlook and the help of her family.

As I wrote last week, my scans were now complete, as was my lumpectomy – my first of several more surgeries to come. I was anxiously awaiting the scan results, which would determine my prognosis. It felt like an eternity waiting for my results. I scheduled an appointment to meet my oncologist Dr. Nissenblatt (whom I call Dr. N) to get my results.

As I drove to his office I thought back to what happened and how the last few weeks had transpired. Over the last few weeks, some days I was wracked with fear, others I glided through with no issues, almost as if my diagnosis was just an episode on TV. Seriously, this is not my reality.

Do you believe in miracles? Growing up my answer would have been no. I believed in God, but I did not believe that miracles really happened. I did not think God, his saints nor his angels had any hand down here. I suppose it was because I watched my healthy, robust father wither away and die from pancreatic cancer in less than three months. I was 19 years old. This happened despite my prayers, my asking God to heal him so we could have more time. Instead, he took my dad home on Jan. 19, 1997. It was the very first time the word cancer really meant anything to me. It rocked me to the core and made the next 10 years very difficult. It made me determined beyond measure to succeed, but, emotionally, I struggled with so much. I fell away from God and the Church.

Fast forward to 2015. My life is amazing. My children are happy and healthy. Jim and I are enjoying life, business is doing great and life couldn't be any better. I did, however, slow down attending church, stopped praying as much and certainly did not pray the Rosary or a Novena in many years. My mind was wandering around too much, looking for instant gratifications and becoming more and more selfish. Although the words came out of my mouth that I am a Catholic, I did not have God in my life as much as I should have. I knew in my heart I had wandered from my path, even despite my first bout with breast cancer and feeling God's miracle once before.

Then one day, as I watched a movie with my husband, I leaned back at a 45 degree angle, reached my left hand over to my right breast and simply touched it. There it was a hard lump the shape and size of a lima bean. I could move it, which was good, but it was hard, so I knew something was wrong. Ironically, this happened on Good Friday, one of Holiest days in the Catholic Church. Needless to say, I began praying again. A lot.
RELATED:
Amber Marchese Hits The Gym Post Cancer Diagnosis: 'It Felt So Good To Be Back'