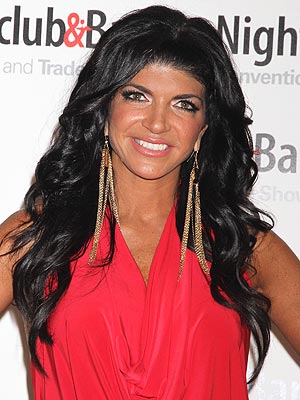 People.com
:
The Real Housewives of New Jersey ended its third season with a moment of calm, as 'Teresa posed for a family portrait alongside her brother Joe Gorga and his wife Melissa.

That was then, and this is now: On Sunday's season 4 premiere, Teresa is in hot water with her costars.

"I believe that she's living a rough life with her husband, she's unhappy and misery loves company," her brother Joe Gorga said. He was referring to the unflattering things Teresa wrote in her cookbook, including questioning Caroline's method of making meatballs, calling her one-sixteenth Italian and criticizing her son Chris's idea for a stripper-run car wash.

"Caroline was very hurt because she's really supported Teresa and she's been there for her through everything," Jacqueline says in the episode.

"She's not going to take any responsibility. She's going to make up excuses, and quite frankly I'm not in the mood," Caroline says about seeing Teresa for the first time since finding out about the book. "I don't want to talk about it. I'm glad I could help you sell cookbooks – what do you want me to say? Little thing called loyalty is clearly lacking."

Later, she adds, "I believe that Teresa took advantage of my loyalty, of my friendship."


But Caroline and her family weren't the only targets: Teresa also wrote about Kathy Wakile and Melissa, saying that her sister-in-law was a copycat.

"You have to consider the same way ... I'm hurt, don't you think maybe Melissa and Kathy are hurt?" Caroline says.

Teresa's reply: "If the shoe fits, then wear it."

At the same time, Teresa's brother Joe is under the impression she's gossiping about his wife. He tells Melissa that Teresa said, "If a richer guy came along, your wife would leave you and go with him."

"Making a statement like that to a man about his wife is playing with fire," Melissa says.

Apart from cooking up drama among the cast, Teresa's husband Joe Giudice may go to jail for fake ID charges. "I've had a tough year with my husband getting arrested, and all the tabloids are out there saying we're going to get divorced, that Joe is cheating on me," she says.

"Teresa is in serious denial about life. Life is not perfect," her brother Joe Gorga says. "We all have our issues. If you don't have issues, you're not human. Be real, and I'll be real with you."
RELATED:
Caroline Manzo and Jacqueline Laurita Say They Want A Real Apology From Teresa Giudice!