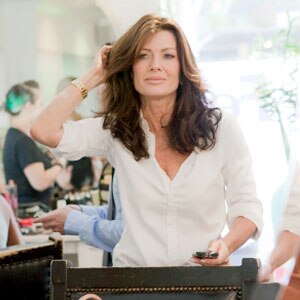 EOnline.com
:
Is there anything not to love about The Real Housewives of Beverly Hills' Lisa Vanderpump?


If so, we haven't found it.


She is beautiful and glamorous (even her chocolate wears Louboutins), hilarious without being unkind, and successfully juggles a zillion jobs and charity work. All this while being a devoted mother (of two lovely humans and some adorable pups) and wife of nearly 30 years.


How does the lovely Brit stay grounded amid her lavish lifestyle? And how is Giggy the Pomeranian handling his newfound fame? Read on...


The Good Mother: While castmate Camille Grammer has four nannies for her two school-age children, and Taylor Armstrong uses her daughter's 4th birthday as an excuse to celebrate herself, that is not Lisa's style. "Mothering has been absolutely my priority in my life—that's why I kind of gave up [acting]. My children were to the point of...I guess obsession. If you see the way I am with Giggy, imagine what I was like with my children. That's probably why they've left home!"


Maybe There's a Reason Energizer Bunnies Are Pink: "I do relax," Lisa (aka Pinky, after her favorite color) insists when we asked the hard-working Housewife if she enjoys any downtime. "But I'm not somebody who wants to sit around by the pool. I've had my swimming pool for five years here and I don't think I've ever been in it. I think going out to dinner away from my own restaurants with my husband is relaxing. I go to the gym every day, where I kind of switch off and watch the news—I find I relax by doing exercise."


Natural Woman: Lisa, who readily admits to using Botox, also says she believes "in keeping it as natural as you can": "I don't like the look of too much of the fillers in the face, the frozen thing and the implants. I would say, if you're going to do something, do it—but if it looks like you've done it, it's not worth it." So would she say anything to someone who's gone overboard—like a certain castmate's zealous use of lip filler? "I would never comment on somebody else's beauty—I think it's very much in the eye of the beholder, and if somebody makes a choice to put something in their face, then that's up to them," says the lovely Lisa. "Absolutely I would never criticize anybody directly—it's hurtful."