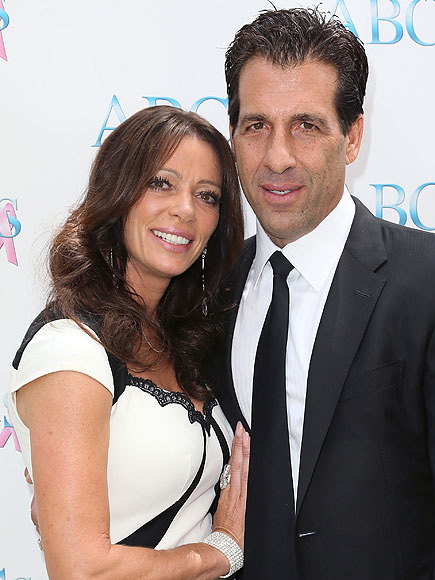 People.com
:
Carlton Gebbia is opening up about why she and her husband David Gebbia chose to separate after nearly two decades of marriage.

The Real Housewives of Beverly Hills season 4 alum, who will mark 18 years of marriage to her husband on Sept. 19, publicly confirmed her yearlong separation on Aug. 25.

Two weeks following news of the couple's split, Gebbia exclusively tells PEOPLE that although she has "experienced every conceivable emotion similar to the grieving process" throughout the past 12 months, she and her husband are "finally on the same page."
"It was never a verbal decision between him and I. It just sort of happened naturally. It was a gradual breakup of our relationship over a period of time," Gebbia says of her 47-year-old husband. "This man was my soulmate for 20 years and never would I have imagined this. He was my everything, but we've been together a long time. …[It] is wonderful now to know that we can still continue to be partners because we had always worked so well together in the past."

Though Gebbia, 42, only appeared on RHOBH for one season, she credits her experience on the Bravo reality series to strengthening her marriage.

"I have to add, because I have heard about the Housewives curse, my experience with Bravo and the show actually made my relationship with David stronger," Gebbia tells PEOPLE. "He has always had my back, but this was like a different animal. We had a partnership and worked really well together."
Looking to the future, Gebbia is uncertain about the couple's relationship and what is to come, but she credits her experience on RHOBH to learning another life lesson.

"The one thing that I learned ironically from Housewives – which I said I would never ever do reality – is never to say 'never.' Ultimately, there's no end game here. We're just working together as a team, I guess, in the most positive way we know how. I mean, he will always be one of the most amazing men I've ever known and I will always consider him my soulmate. When I met him, I called him 'my destiny' and I said if we ever had a little girl, that's what her name would be," she says. "I think I'm just dealing in the moment."

Currently living in the family's Beverly Hills home, the mother of three, who is still designing houses and is "also considering going back into acting" (which she calls "one of [her] passions), says she feels a "sense of relief" that news of the yearlong separation is public: "It felt like I was sort of hiding a lie and a secret and it just didn't feel good."

"It is still very, very raw. I still go through the emotions and waves. After being together 20 years, it's just not something that is buried immediately," Gebbia tells PEOPLE. She adds, "But as long as our children are happy and we keep running together positively, that is all that I can ask for. I don't want our children affected by this in a negative way."
RELATED:
Carlton Gebbia Carted From Club On a Stretcher