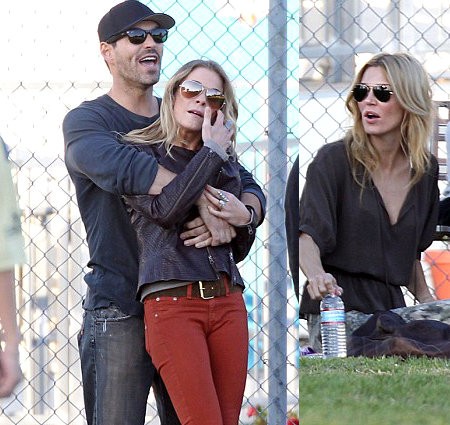 RadarOnline.com
:
Brandi Glanville has put the kibosh on her sons appearing onEddie Cibrian and LeAnn Rimes' upcoming TV series, RadarOnline.com has learned.

During her recent Podcast One show, The Real Housewives of Beverly Hills star revealed that her boys, Jake and Mason Cibrian, will NOT be appearing on her ex-hubby's VH1 reality show.

"Are the children going to be on Eddie's show at all?" Glanville's guest The Millionaire Matchmaker star Patti Stanger innocently asked.

"No, no, no, no!" Glanville said.

As RadarOnline.com previously reported, Glanville's ex-husband and Rimes have signed to do a semi-reality show.

The scripted show, titled LeAnn and Eddie, will be based on the "normalcy" of their lives at home as well as dealing with their celebrity status, the producers said in a press release. How they'll do that without including the two kids remains to be seen.
RELATED:
The Curious Case Of The Deleted Scene: Why Was An Infamous Fight Between Beverly Hills Housewives Lisa Vanderpump & Brandi Glanville Edited Out Of Series?