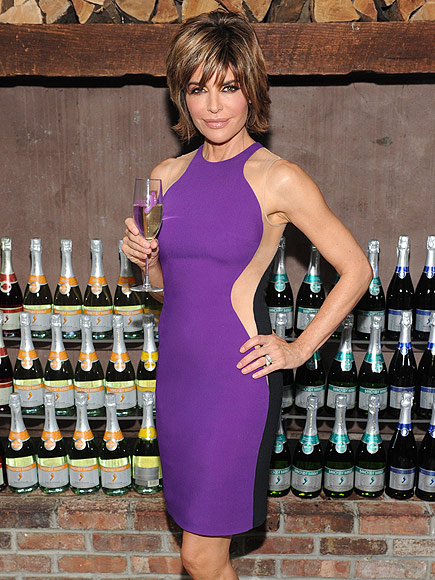 People.com
:
If anyone is equipped to handle the drama that comes along with joining a reality TV show, it's Lisa Rinna.

Best known for her roles as Billie Reed on Days of Our Lives and Taylor McBride on Melrose Place, Rinna, 51, spoke to PEOPLE at the Barefoot Wine Bear Garten Pride Celebration in New York City on Thursday about her first season on Real Housewives of Beverly Hills – and yes, she talked about that whole glass-throwing incident.

"[The drama of RHOBH] surprised me," she told PEOPLE. "I don't think anything can prepare you for what ends up happening."

Rinna's most memorable moment from the show occurred when she went head-to-head with fellow cast mate Kim Richards during a dinner in Amsterdam. When Richards threatened to reveal a secret about Rinna's husband, Harry Hamlin, the night quickly went from cocktails and laughter to broken glass and tears.

Even she was shocked by her actions that night. "I'd say breaking the glass was probably the biggest moment of my life," she told PEOPLE.

"I would have never thought that would happen in a million years. I didn't even know I had that in me," she added.

Rinna's last words on the issue echoed what she told Richards during the altercation: "You just don't go after my cubs and my family," she told PEOPLE.

However, now that her first season has wrapped, the actress and reality star has "learned a tremendous amount about other people and about myself. I tried to go in saying, you know, 'I'm not going to react. I'm just not going to react,' and then you end up reacting. It's been really interesting."

Rinna was a fan of RHOBH "for years. I've watched all the franchises," she explained. "It's not like I don't know what I'm doing, but you get in there and you have no idea."

Sources told PEOPLE that Richards is not returning. Bravo has yet to officially announce that Rinna will be joining RHOBH's sixth season, but she took to Twitter earlier this week to coyly confirm she'll return for one more year of glass-throwing: "I've always liked the number 6."
RELATED:
Lisa Rinna Explains Her Cryptic Tweet: Changes 'Don't Always Feel Good'