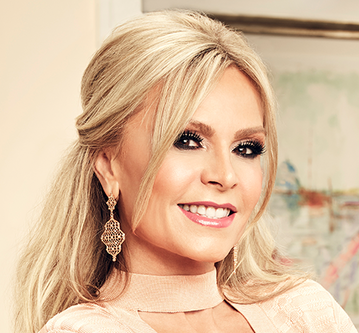 HuffPo.com
:
It's hard to believe that Real Housewives of Orange County (RHOC), the oldest in Bravo's Real Housewives franchise, has been on the air for over a decade. Although Tamra Judge joined the show during its third season in 2007, it feels like she was part of the introductory ensemble which included Vicki Gunvalson, often referred to as "The OG of the OC." Vicki is still a part of the cast and has been integral to the show's many and varied story lines from Seasons 1 through 11. Unsurprisingly, she rejoins the cast again in the upcoming Season 12. Back in Season 3, she bonded with then-newcomer Tamra and the two have been through the highest of ups and the lowest of downs. Tamra, like Vicki, has proven she too can maintain a committed relationship with a network and franchise through reality TV's tests, tricks, twists, trials and tribulations. The show has seen Tamra through a bitter marital demise (she's now remarried), being screamed at by all her cast mates to the point of having to flee a room, and the turbulent on-again off-again (currently off) dysfunctional relationship with Vicki.
Somehow, Tamra and Vicki always seemed to find their way back to being close friends and partying together despite swearing they would never speak again. Last season however, it seemed that things were truly final, that there was no love left between the two ladies and there would be no reconciliation this time. Vicki had been spreading salacious rumors about Tamra's husband Eddie, an understandable "last straw" for someone who cherishes her "third time's a charm" marriage. What made matters worse was that Season 11 newcomer Kelly Dodd, outspoken to the point of verbal diarrhea, was Vicki's partner in shit-talking crime.
The Housewives were divided as things became contentious. After filming for Season 11 wrapped, rumors began to fly about Kelly's marriage and an alleged adulterous paramour. The blogs had a field day. Watch What Happens Live had to screen out callers after a few went rogue dropping bombshells live on air. Luckily for Bravo and its leading ladies, the cast would soon stop doing any press interviews because the season was over. The ensuing hiatus would give everyone a chance to catch their breaths. We, the viewers, collectively held ours, unsure of who would return the following season to pick up the pieces, clean up the mess and attempt to (as Dorinda Medley of RHONY says) "make it nice."
I had the opportunity to speak with Tamra Judge to get a sense of how she feels going in to her tenth season, Season 12 of The Real Housewives of Orange County:
There was a ton of drama at the end of last season with Kelly Dodd and Vicki Gunvalson. However, you all have to hang out together regardless when you start filming. What was it like going into this season when you hadn't spoken to these ladies in months?



It was scary!

I had this uncomfortable feeling going into it and I didn't know what to expect. The girls, Vicki and Kelly, had a lot to say about David Beador (cast mate Shannon's husband) and Eddie (Tamra's husband). It ended in a really ugly way last season and I was a little bit nervous because I didn't want to rehash that stuff. Also, even though you're on a show together with these people, you just don't want these people in your life.
That brings me to a question that my friend Megan T. has: If you weren't filming RHOC, would you have anything to do with Vicki?

NO. There's no need for me to.
Amy C. asks: Are there any particular Housewives that viewers will turn against this season?

You know…I don't know…I was actually just saying that it's such a different season this year. The cast was a little bit split almost three quarters of the way through filming.
I don't know what Kelly and Vicki did most of the time because I was filming much more with Meghan and Shannon. Peggy is the new girl and I didn't film with her all that much either. This season, there was lots of filming done individually and a focus on family stuff, whereas in the past there was lots of group stuff. I could be wrong but that's how it felt. You'll see that I am participating in a documentary about parents who have been unfairly estranged or separated from their kids called Erasing Family. (This is something that Tamra is personally passionate about – she has recently reconnected with her daughter and their relationship is a work in progress. In the first episode, she briefly mentions that she would regularly text her daughter and one day her daughter finally responded. Tamra says this relationship is on the mend with her ex-husband Simon's cooperation).
Shannon is struggling with her weight and that's something that lots of people connect to. She's in her 50s, there are all sorts of hormones and it's not as easy to lose weight as it is to gain it. Shannon is very open and candid, which makes her the perfect housewife. She really lays it all out there and that takes balls. People will really just want to hug her.
What did you think of Kelly Dodd's return to the show after last season?

I was a little surprised, however I think she's good TV. There's a fine line and Andy Cohen talks about this. When people love to hate you, It's still makes for good TV but when people hate to hate you, it's uncomfortable and the line has been crossed. She was really close to that line and I didn't know if she could redeem herself, but she does this season. I mean, she's still Kelly, but you see a softer side of Kelly. She said outrageous things last season and I honestly didn't know if she was capable of redeeming herself. She must have internalized "I was a bit of a jerk" and reflected. She knew what she had to work on and she is less abrasive this season.
RELATED:
Tamra Judge Says Lydia McLaughlin Is "Not Gonna Disappoint" In Season 12 of RHOC