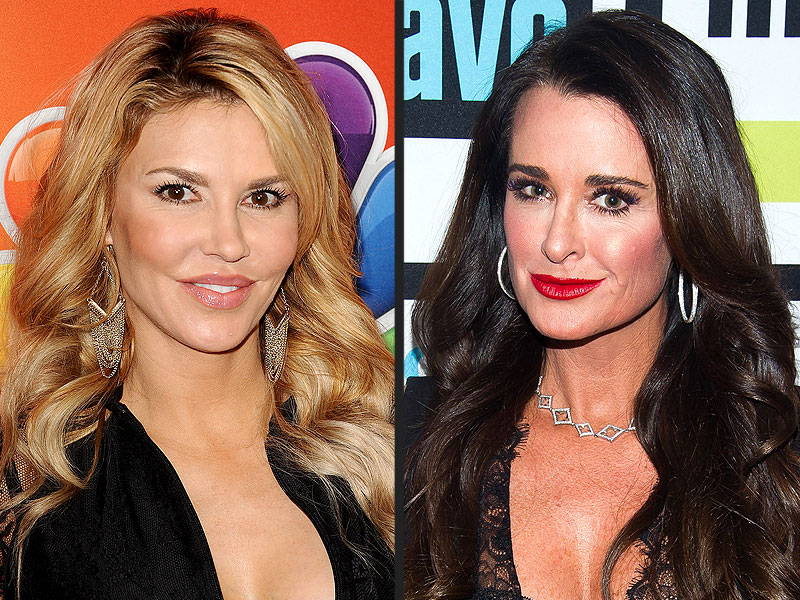 People.com
:
Sibling rivalry is tough enough, but put Brandi Glanville between sisters Kyle and Kim Richards and it turns into a family feud.

"I have always been there for my sister, and for Brandi to come in after a hot minute and suggest [otherwise] is a slap in the face," Kyle said on Tuesday's The Real Housewives of Beverly Hills, after she and Glanville got physical at the party from hell last week.

Kim, who was acting whackadoodle at the party, admitted to her sister that she took a pill to help her through recent pain and ended up in the hospital for a week with a hernia and cracked rib.

"The fact my sister took this pill is scary," said Kyle. "It's a really bad choice ... but she acknowledged it."

But Kim was still upset that Kyle made such a big deal of it at the party after her lengthy sobriety, and told Kyle that although she loved her, Glanville was her good friend and had been there for her.

"I don't trust her," said Kyle.

"Brandi is on my side," said Kim.

"I don't think Kyle wants the burden of worrying any more about Kim," Glanville said.

Later, Kyle tossed a gay mixer at a martini lounge for her "amazing gay guy friends who are single," in hopes of helping them find love.

"Mixer? Alcohol? With gays?" said Lisa Rinna. "Fun!"

But that quickly ended when Glanville entered with Kim.

"I sat with my sister telling her how I felt about Brandi, and she brings her to my party?" Kyle asked, although Kim said she brought her to bury the hatchet.

The two tried initially, with Kyle apologizing for pushing Glanville.

"We do a fake air kiss, and I'm thinking this might be okay," said Glanville.

But it wasn't.

"You've been friends for six months," Kyle told Glanville. "You shouldn't come between two sisters."
RELATED:
Battle of the bustlines! Housewives stars Kyle Richards and Joanna Krupa both take the plunge at pre-Grammys party