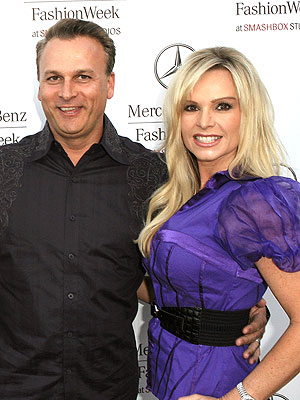 Wetpaint.com
:
Oh, man — Simon Barney is not happy. If you thought things had been settled between Simon and his ex-wife, Tamra Barney of The Real Housewives of Orange County, you were very, very mistaken. Turns out, just because they've been quiet doesn't mean they aren't still fighting!
The spark that set Simon off was an argument he got into with a fan on Twitter this week, who wasn't too happy with Simon airing his dirty laundry over social media. But Simon was ready with a comeback: "I wasn't the one who invited the reporters to court the other day," he tweeted. "Guess who? Do your research before you make a statement." Ouch! We hope that isn't true — this certainly isn't the first time Tamra's been accused of inviting reporters to an event, but we get the feeling Simon may be a little biased.

The last we heard about Simon and Tamra's feud, Simon was demanding that their daughter see a different therapist after the current doctor publicly stated that Tamra was a great mother. And, by all accounts, Tamra does seem to be a really good mother! She may have had her troubles with her co-stars, but Tamra always seems to have her children's best interests at heart. We hope that she and Simon can settle their differences soon!
RELATED:
It's 'Brutal!' Tamra Judge Opens Up About Custody Case As Judge Assigns Parental Alienation Counselor